Missing a tooth can cause a mouthful of problems and missing a mouthful of teeth is undoubtedly a problem in itself. Nowadays, modern dentistry has made it so that you don't have to suffer from a mouth of missing teeth. With so many restoration options available, it is easier than ever to find a way to replace missing teeth.

In cases where all or the majority of your teeth have been either lost or extracted, dentists will often perform a full mouth reconstruction. This is sometimes also referred to as a full mouth rehabilitation or a full mouth makeover. Regardless of what it's called, the purpose is simply to replace an entire mouth of missing teeth.

When it comes to replacing an entire mouth of missing teeth, there are two restorative treatments that can be used. Namely they are dentures and dental implants. While dentures have been around for many years, dental implants are a somewhat new development for missing teeth replacement. Nevertheless, both options provide their own unique set of pros and cons. Let's take a look at what these two methods have to offer.

Dentures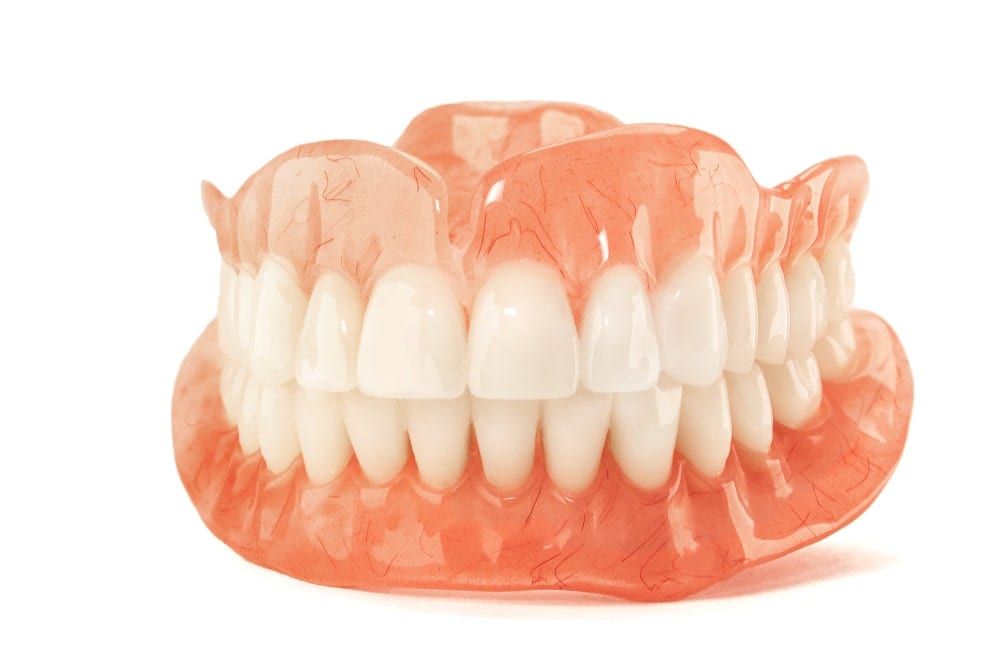 Dentures are sets of fake teeth attached to an acrylic or resin base that is made to resemble gum tissue. They are custom fabricated to the shape of your mouth and are designed to contour to your jawbones in order to fit. Denture adhesive can also be used to encourage a better fit and prevent them from slipping.

Once in place, dentures help to restore eating and speaking function. However, there is usually a brief adjustment period where eating and speaking may be difficult. In addition to restoring function, dentures also restore the look of your smile. In fact, dentures are more aesthetic than ever and have a more natural appearance.

Another benefit of dentures is that almost anyone can qualify for tooth restoration with dentures because there is no minimum bone mass requirement like with dental implants (we'll get to that more in a bit). However, this is also one downside of dentures. Unlike dental implants, dentures cannot preserve the bone mass. This means that they will need to be relined every two years as the jawbones change shape.

Dental Implants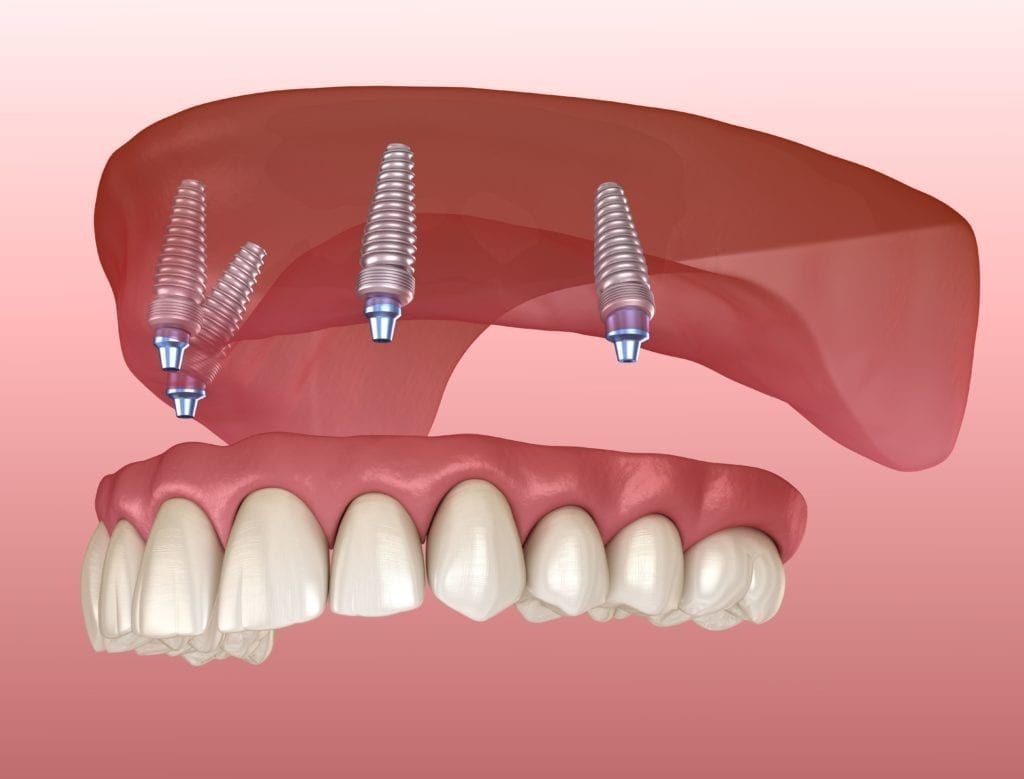 Dental implants are artificial tooth roots made from titanium. Just like natural tooth roots, they reside in the jawbone and provide proper stimulation through transfering the force of chewing. This keeps the bone strong and prevents it from deteriorating over time. Since dental implants fuse with the surrounding bone and preserve its bone mass, they are extremely long lasting.

When dental implants are used for a full mouth replacement, four or more implants are used to support a denture. This is known as an implant-supported denture and the main difference is that this type of denture is not removable, nor does it need denture adhesive to remain in place. Instead the dental implants will secure the denture and prevent it from slipping. 
One main downside of dental implants, however, is that they require a minimum amount of bone mass to be safely placed because their strength depends on their ability to fuse with the bone. With bone grafts can be used to increase bone mass, there are cases where dentures may be a better option. Another downside of dental implants is that they require a minor dental surgery in order to be placed.
As you can see, there are upsides and downsides to both dentures and dental implants. Although both methods are used for full mouth reconstructions, they offer slightly different approaches to replacing missing teeth. When deciding on a tooth restoration method, you will want to consider these different approaches, as well as their upsides and downsides. It is also important to discuss your options with a dentist who can provide you with more precise information.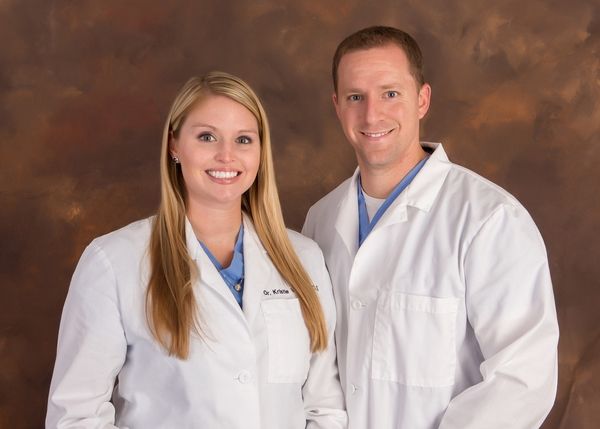 Dr. Chris Vinson and  Dr. Kristie Vinson attended the College of Dentistry at The University of Oklahoma. Dr. Chris Vinson has earned a fellowship from the Misch International Implant Institute and a fellowship in International Congress of Oral Implantology. He is also certified to administer Oral and IV sedation to his patients through The Montefiore College of Medicine in New York and is Teeth-Express and Invisalign certified.  Dr. Kristie Vinson is trained in sedation dentistry, Botox, and dermal fillers. She received a Fellowship from the Misch International Implant Institute and the Fellowship in International Congress of Oral Implantology. She is also Teeth-Express and Invisalign Certified.